Shadez of Brooklyn - "Change" b/w "When it Rains it Pours (Survival Warz!)" (Pandemonium Wrekords, 1996)
There's a type of rap song that became briefly very common in New York in the mid-90s: a sort of autobiographical, "here's how hip hop saved me from a life of crime and poverty" story song. The most famous two examples of this type of song are Wu-Tang Clan's "C.R.E.A.M." and "Juicy," the breakthrough single from the Notorious B.I.G.'s debut album
Ready to Die
. Both songs were released as singles in 1994, and both did more to solidify their initial widespread fanbase than anything they had done previously. "C.R.E.A.M." and "Juicy" also represent opposite ends of the spectrum when it comes to these type of songs, with the former sounding like the work of artists who haven't fully removed themselves from the life that their rap career is allowing them to escape
[1]
, and the latter showing Biggie reveling in a life of luxury while looking back on how hip hop helped him through his impoverished childhood and his days as a drug dealer.
For their debut single in 1996, it makes sense that Shadez of Brooklyn would try to mine similar territory as these artists, who by that year were among the most popular and acclaimed in hip hop. Not only did they cover similar subject matter, but the quartet managed to transcend their own ability and record a song, "Change," that is not only their best song by a wide margin, but also one of the best songs on this subject in hip hop history.
[2]
The main reason for this song's success is a direct result of the group's affiliation with Da Beatminerz (originally DJ Evil Dee and Mr. Walt), who rank among the best producers in hip hop history who don't get anywhere near the attention they deserve.
[3]
Shadez originally hooked up with Da Beatminerz through Chocolate Tye, who was childhood friends with Mr. Walt and hung around the legendary D&D Studios in New York while Da Beatminerz were working on the early Boot Camp Clik records. He became a part of the expanded Beatminerz lineup (along with Baby Paul and Rich Blak) around the same time he formed Shadez of Brooklyn with fellow rappers Tee Black, Rambo, and Rev. Al. Chocolate Tye's presence in both groups got Shadez a deal with Pandemonium Wrekords, the label run by Evil Dee and Mr. Walt, as well as studio time at D&D, where they recorded three Beatminerz-produced singles between '96 and '98.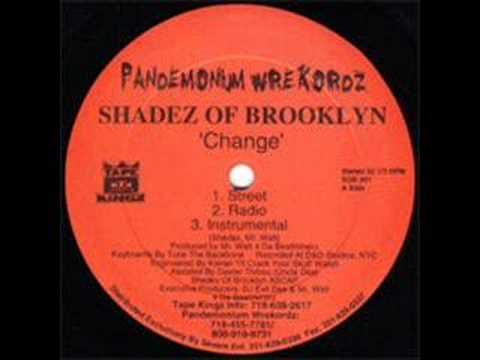 The first of these singles, "Change" b/w "When it Rains it Pours (Survival Warz!)" illustrates everything that was going right and everything that was going wrong with both groups at this time. "Change" features a beat by Mr. Walt that uses a gorgeous sample of Ahmad Jamal's piano playing on the title track of his 1970 Impulse! Records album
The Awakening
.
[4]
This sample gives the song a vintage feel befitting the remembrances that dominate the lyrical content. The choice of subject gives the four good but not great emcees a level of focus that isn't present on anything else the group released in their brief career. Their stories, which range from one member's birth through the perils of ghetto life and onto the formation of Shadez of Brooklyn, give "Change" as personality that their other songs lack. Unlike Biggie's "Juicy," these guys don't have a luxurious new lifestyle to boast about, they just have an optimism and a confidence in their ability to rise to the top of the rap world as their predecessors did. This place "Change" squarely in the center of the "C.R.E.A.M."/"Juicy" spectrum.
By contrast, the b-side, "When it Rains it Pours (Survival Warz!)" clearly shows the group's shortcomings. With the possible exception of Baby Paul, none of the three late addition Beatminerz had the skill level of the two founders, and their presence ultimately watered down the Beatminerz sound. Rich Blak's beat on this song is characteristically marked by average drums and an underwhelming sample loop. Without a beat on the level of "Change" it becomes quickly evident that the four rappers in Shadez of Brooklyn are capable but generally unimpressive rappers, and their moderate skill level prevents the song from distinguishing itself among the hundreds of songs with its exact subject matter released around the same time. Ultimately, while "Change" lodges itself in your brain, "When it Rains it Pours (Survival Warz!)" is barely memorable.
Shadez of Brooklyn disintegrated by the end of the 90s, and Chocolate Tye moved to Houston, where he remained a satellite member of Da Beatminerz until Evil Dee and Mr. Walt jettisoned the other members after releasing the Brace 4 Impak album in 2001. Da Beatminerz's recorded legacy over the last decade has been checkered at best, as Evil Dee and Mr. Walt both fell off, only occasionally matching their mid-90s glories. Since they never released a full album to sit alongside the early Boot Camp Clik catalog, Shadez of Brooklyn were almost completely forgotten in the fifteen years after their dissolution. For "Change" alone, the group's legacy deserves to be maintained, and the song endures as one of the finest songs Da Beatminerz ever made.
"Change"
"When it Rains it Pours (Survival Warz!)"
---